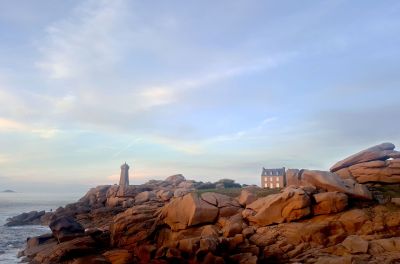 Pink Granite Coast
The Côte de Granit Rose, in the heart of Brittany, west of the Côtes d'Armor, welcomes you all year round to discover an exceptional site
You can admire the chaos of pink granite sculpted by the elements, escape to the islands, practice your favorite sport and explore the chapels, churches and megalithic monuments.

The coppery hues of the granite, the bright colors of the moor and the depth of the blue of the sea form an exceptional whole on the Côte de Granit Rose. Between Perros-Guirec and Trébeurden, the wind and the waves have sculpted the rocks giving them unusual shapes.

A magical landscape where, at the chance of the imagination, we see a Turtle or a Foot carved into the rocks. And then, a stone's throw from this unreal coast, stretches a wild archipelago, a true paradise for seabirds. These protected islands total barely 40 hectares of land and are the largest bird reserve on the French coast. They are home to more than 15,000 pairs of nesting birds.