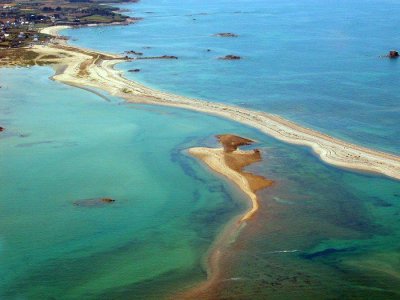 Le Sillon de Talbert
"At the extreme tip of the Trégoroise peninsula formed by Jaudy to the west and Trieux to the east, the Talbert furrow is the exclamation point of Brittany resolutely turned towards the ocean.
It is a tongue of sand and pebbles, 3 kilometers long, stretching out towards the Castrec Sea and the rocks which precede it, trying to block the ebb and flow of water which makes it rich.

The furrow of Talbert is also a paradise for the fisherman on foot because the expanses of sands, pebbles and rocks abound with a particularly abundant aquatic fauna. Each lagoon is a refuge for shrimps or crabs, each rock can contain a crab, a spider or a lobster ... Between these pebbles the sand covers, during the tide, clams and clams which form the delights of the one who has been able to unearth them.

But as it is almost the end of the world, few summer visitors venture there ... "