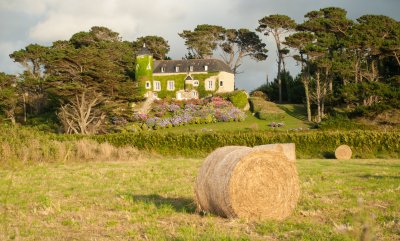 Plougrescant
In the heart of the country of Trégor-Goëlo, between the island of Bréhat and the pink granite coast with the archipelago of 7 islands, the Pays des Trois Rivières is a veritable jewel of unspoiled nature, with its maritime facade and its exceptional panoramas. enchant you with its naturalness and authenticity.
The municipality of Plougrescant has several islands now classified: the island of Er, the island of Evinec, the island of Itron-Maria, the island Loaven, the green island and the Kerlaben islands.

NATURAL SITE PROTECTED FROM THE GOUFFRE: A GREAT DIVERSITY OF THE ENVIRONMENTS.

The Gouffre site with an area of 11 ha is biologically rich, in fact the existence of different environments offers varied living conditions for plants and animals. On this limited territory we find these ecosystems: cliff, aerohaline lawn, pebble cordon, lagoon, moor, pine afforestation.

Protected or rare species in the department are present in this area, such as Sea Cabbage, Crambe maritima (protected species) which is found on pebble cords or even Ruppia maritima which lives in brackish water lagoons.

The fauna is also varied: mammals, birds, insects, amphibians, snakes, molluscs. Protected species such as the pitchou warbler or the great plover nest on the site.