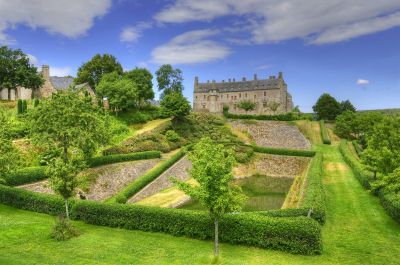 Chateau de la Roche Jagu
In the heart of Trégor, in Brittany, the departmental area of Roche Jagu remains a must-see. The 15th century manor house, protected as a Historic Monument, and its medieval-inspired park, recognized as a "remarkable" garden, benefit from an unusual location.
Flanked by two towers, one on the front and the other attached to the angle of the gable overlooking the estuary, it faces the visitor coming from the land.

To get there, the hiker will have followed the path which goes up it on the right bank, passing by the Silver Rock from where he will have discovered a large portion of the valley. He approaches this vast house by emerging on a metal staircase placed there so much erosion and human passage had worn the seat.

It is at the foot of a massive buttress which seems unfinished, pierced by a narrow window, attached to a battlements tower adorning the northeast corner of the castle, that you will come out on the grassy esplanade opening onto a monumental entrance.

Strolling through these expanses of greenery now developing over some sixty hectares, enhanced since 1995 by the planting of a palm grove, you will end up at the private hold of La Roche-Jagu. Formerly frequented by boats practicing cabotage going up from the sea to Pontrieux, this tiny port allowed the loading of flax and hemp threads extracted from crops grown on the plateaus. From this activity still remain, to the east of the estate, the few retting basins now transformed into an aquatic garden. Nowadays, the hold is frequented by a few pleasure boats and, when the tide allows it, the Arcouest star will stop there for a moment, the time of a visit to La Roche-Jagu , pouring out its flood of curious visitors to a site with a long history.