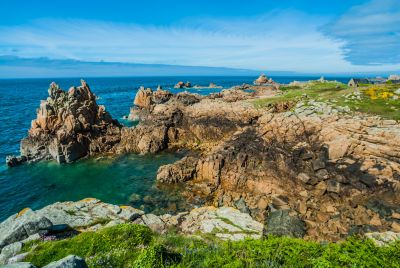 Ile de Brehat
Ile de Bréhat, boarding at the Pointe de l'Arcouest ...
The Land of Icelanders and Big Fishing… Facing the sea, the land of Paimpol has kept the memory of Icelanders and Terre Neuvas. The ports of the Goëlo coast are like its fine sandy beaches and cliffs, the highest in Brittany.

Divided between sea and river, you just have to walk a few kilometers through the Leff Valley to discover the soul of this country.
A stone's throw from Paimpol, embark from the Pointe de l'Arcouest to the island of Bréhat, aptly named "the island of flowers", a real immersion in another world! A paradise for walkers, Bréhat is crisscrossed with multiple flowery paths: in spring, Bréhat exults under the colors and floral scents. The island covers 310 hectares (3.5 km by 1.5 km) and is home to 470 inhabitants in winter, 5,000 in summer (no car on Bréhat!).

Île de Bréhat is in fact made up of two main islands (north and south) linked together by a bridge.
You disembark at Port Clos on the south island.
Other small islands are also scattered around the island but not accessible on foot such as Ile Beniguet or Logodec.

There is a fairly significant contrast between the 2 islands. The south island is very flowered (hence the nickname of Bréhat: the island of flowers) with its palm trees, mimosas and others. The north island is wilder covered with moor.